Stella's been talking con clothes lately and it has me thinking about the bag sitting on the chair in the study.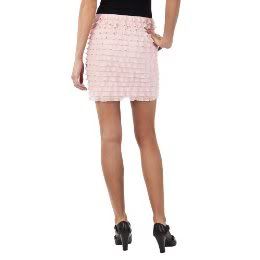 It's an innocuous white plastic bag, but what's inside was a total whim, and a little outside my normal comfort zone. Short, tight, and full of ruffles skirt.
You see, while talking to my sister on the phone [both of us on mobiles in Targets 3000 miles apart - have you been in there lately? Maybe you've seen the
skirt
- black though.], she picked it out and I bought it. Now what do I do with it? I like it but have no idea what to wear with it or where to wear it.
HELP!
Anyone have any ideas or should I take it back...help this random shopper out.
Tilly Greene
WARNING! Red hot romances ahead!
http://www.tillygreene.com/
Hot Thoughts Blog
|
Facebook
|
Twitter